Coming to the Osa Peninsula felt like coming home after the wonderful week I spent there last year with my sister and brother-in-law. It is such a fabulous part of the world. So much wild life, beautiful beaches, emerald water, wonderful hikes, and many lovely people. And so many birds! I rarely have posted pictures of myself on this blog site but this picture seems to convey how wonderful I felt in Costa Rica and specifically in the Osa area! And here is our morning breakfast spot with a pool in the background and the view from the Ranch house. (Pictures, courtesy of Jackie.)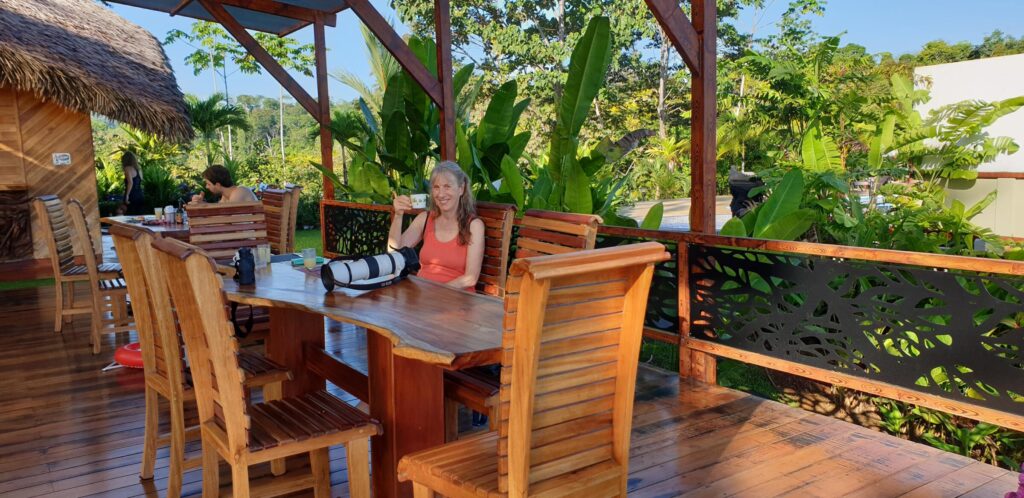 On our first day there, we headed down towards the tip of the peninsula. Along the drive we encountered the only group of spider monkeys we saw in the 2 weeks we spent in Costa Rica. They were in a hurry but there was a place to pull over and I got a couple of fun pictures in the moment or two before they took off. A nice little family, baby and all.
We took the crazy jeep road I had gone on last year with my family to get to the Matapalo beach, a place I remember so well for swimming in water a color I could only dream of. It was too rough to swim in this time but I took videos to watch when the dreariness of winter gets me down! Here are some stills.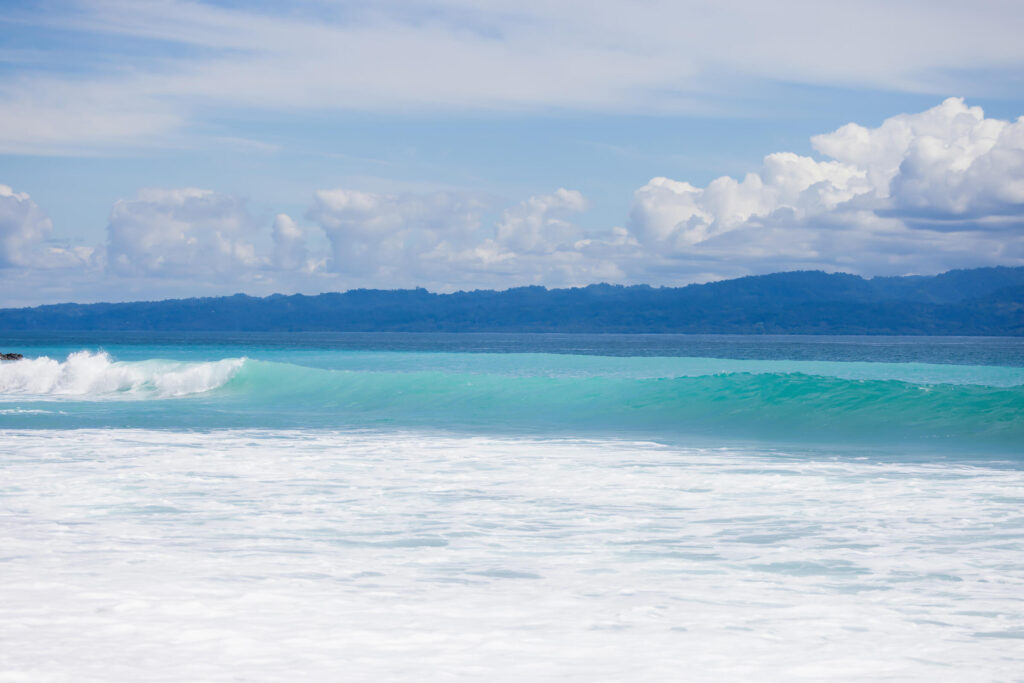 A Whimbrel (another new bird for me) was hunting cicadas on the beach at Matapalo.
On our way back to our home, I recognized a wonderful birding spot our guide had shown us last year. We had seen many shore birds and a Spectacled Owl that time but not the Kingfisher he had hoped to show us. We were there earlier in the day this time and only saw one Ibis where there had been a dozen the year before. We saw lots of butterflies and a lone Common Black Hawk and were about to head out when Jackie spotted a Kingfisher flying in. Even with the binoculars, it took me a frustrating minute to find him. Luckily he obligingly stayed put long enough for a couple of pictures before shooting off again downstream. See if you can spot him in the first shot, which is what I saw through my long lens!
This was, then, my 3rd type of Kingfisher for the year – our New England birds, the gorgeous blue one I saw in Germany in December, and now this black and white version.
Butterflies, a Kingbird and a Yellow-headed Caracara, a type of falcon.
Driving back through Puerto Jimenez we saw a Red-lored Parrot high in a tree right in town. Along the way were several Roadside Hawks, living up to their name. The last one is a juvenile, which you can tell by the lack of striping on the chest area.