Our day for a dolphin tour with Golfo Dulce Exploradores
All packed and ready to head back to San Jose, we left our bags at the Ranch House, had a quick bite and one last look at the crazy Macaws falling off the tree. It is undoubtedly silly to try to figure out what provokes these squabbles but my guess is that denuding the branches of the tree was not acceptable to the partner this time!
When we got to the beach to meet our guide for the dolphin tour around 8:00, there was a Tri-colored Heron fishing right near the boat we were to get on.
We spent a lovely 3 hours that morning on the water seeing birds and fish and ultimately a pod of dolphins, as we had hoped. Our small boat could hold at most 6 people and the driver. Luckily we were only 4 passengers that day. We traveled across a fairly wide expanse of glassy-calm water and when we reached the other side, we snorkeled and saw parrot fish and rays and other lovely small colorful fish. There were many terns in the far distance diving from high up for fish. We had almost despaired of actually seeing dolphins when suddenly they were everywhere. It was quite lovely to have them so close by that I could have reached out and stroked them. I wondered if some of them might have had an encounter with a motor or propeller that caused what looks like scarring on their backs.
Motoring back to the beach, our guide came a bit closer to a couple of resting terns, maybe a bit too close as they flew off before I could get them well in focus, but still cool to see their orange and black beaks.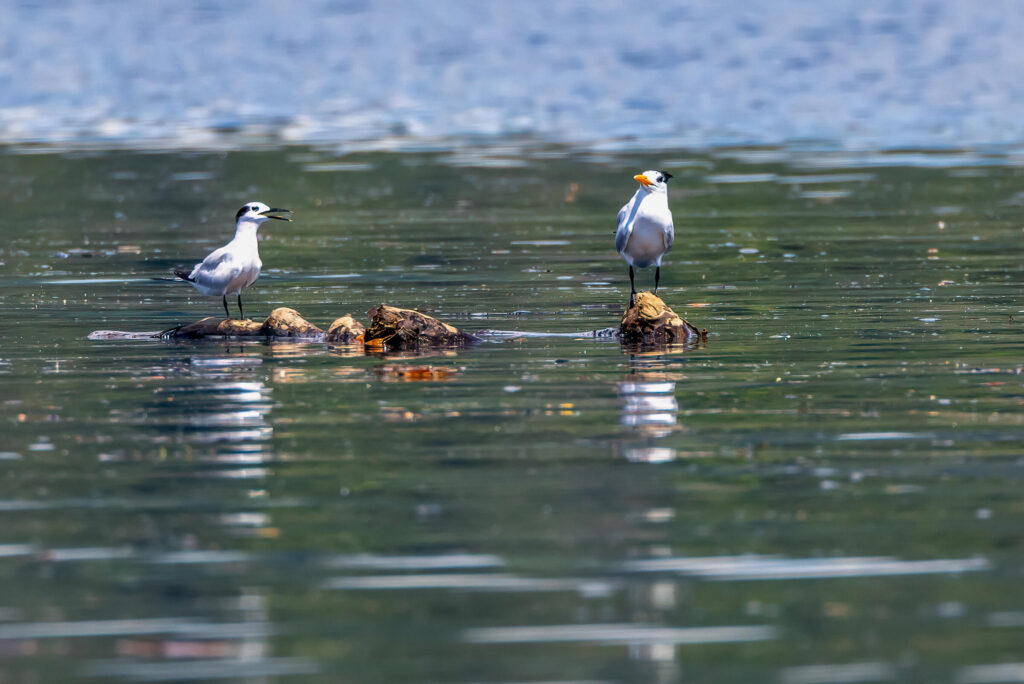 One of the women on the boat brought us to her cabin to see a baby hummingbird. She said it was on hourly intervals for feeding during the day at that point. Unfortunately we were in a hurry to get on the road and couldn't wait that long, but here you have a scrawny little baby hummingbird.
Driving back to the Private Villas to pick up our things, we had a Vulture Crossing (or rather drinking) delay. After so much rain, the large pot holes were filled with water. First there was one vulture and while we waited for him to drink his fill, two others arrived. It was quite amusing.
Finally we were on our way. I was so excited to see if we could find the Kiskadee nest again. I was sure we had passed/missed it and was feeling pretty sad about that when Jackie's intuition proved right yet again! We stopped and had another nice lunch at the same roadside restaurant and I was able to see what 6 days of development looks like for Kiskadee babies. The parents seemed to be taking some time for themselves as well by now. I thought at first they were mating, which seemed odd, but clearly they were just taking a break together.
And that, my friends, is the conclusion of my travel journal for the 2 weeks in Costa Rica, 2023!